Not all skin is created equal. Some skin types have more oil than others, and some react to things more harshly. All skin must be cared for with routines to keep it healthy. We have put together some great information that can help anyone determine the best skin care routine for their skin type.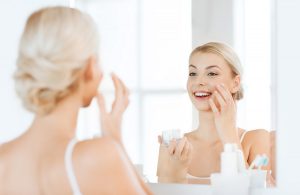 Skin that is considered combination or normal features an oily T-zone and dry cheeks, so dual functionality products are needed for a successful routine. The routine should begin with a wash using a mild glycolic acid soap that will remove dirt and dead skin without depleting the skin of oil. Once the face is clean and dry, a light 15 SPF or more moisturizer without oil should be applied. At night, a cream containing alpha hydroxy acids or retinol can be used to further cleanse the skin and take care of fine lines, but only when used sparingly. T-zone oil trouble can be absolved with a weekly clay mask spot application and toner blotting as needed.
A routine for oily skin is based on clean pores without getting the skin too dry and watching out for blemishes from moisturizing products. A power brush with salicylic acid pads can deeply clean oily skin and treat breakouts at the same time. Even though more moisture isn't necessary, sun protection is, so an SPF 15 lotion without oil should be used. Since oily skin has a higher tolerance for stronger facial products, retinol cream applied at night will be perfect to make the skin firm and dry excess oil. If blemishes appear, blemish gels and lotions with salicylic acid as an active ingredient can fight them and absorb oil on the surface.
Dry skin suffers from a deficiency in oil production, and mature skin features wrinkles and other forms of damage from age, so moisture is especially needed. Skin that suffers greatly from dryness should only be cleaned at night and followed up with a warm water wash in the morning. Otherwise, a creamy cleanser applied with a damp washcloth will perform well and produce some exfoliation. A sunscreen based lotion with a humectant will prevent more wrinkles and spots from coming. At night, a retinoid application will make the skin tone more even and plump wrinkles, but it users should start by applying it twice a week because of how much it can dry the skin. Hydrating masks that can be washed off with a cloth add more moisture and silicone strips for scar treatment reduce wrinkle visibility.
Sensitive skin is prone to irritation, so ingredients in facial products should be identified before they are used. People with this skin type need items that contain as few ingredients as possible, hydrate the skin, and have no fragrance. Alpha hydroxy and glycolic acids are off limits, so cleaning should be done in the evening with oatmeal and other botanical cleansers. Moisturizers that contain zinc oxide and other minerals that block the sun can be used in place of traditional lotions. Antioxidant creams, such as one made with green tea, are favorable at night because of their ability to fight free radicals and reduce aging signs.
The right skin care routine will produce skin that looks healthy and blemish free. Once you determine your skin type, you can use these tips to treat your skin right and always look your best.