Although appearances have always played a role in society, the matter has never been more exposed than it is today. Today, going out without your beauty routine implemented could result in pictures of you online without your makeup, a big zit on your face and baggy pants. Fortunately, these beauty hacks will make it faster and easier for you to get out of the house looking your best.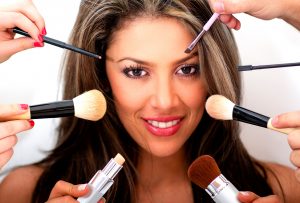 Applying foundation and the various concealers can take a lot of time in the precious morning hours. Find a combination product that addresses the problems you have with your skin. There are several good brands on the market and a few excellent ones you can depend on for even coverage that smooths your entire skin tone. Follow up with a setting powder that contains a blend of skin tone and concealing in one to save a few more seconds on your routine.
If you don't have time to do your full makeup and want to go out, have a "quickie" plan. The full coverage foundation and powder mentioned above will provide you with a flawless finish. All you need to do is add a few accents and you will have a beautiful, natural glow. Start with a neutral lip balm and add just a hint of color to your cheeks in order to create a subtle brightening.
Dust with a radiance powder to highlight your features. Don't forget about the neck and shoulders. Remember to go light because too much of the shimmer will look fake and ruin the effect of natural color.
Just like your face, folks see your hair immediately. If you don't have much time to fix your hair or can't make it cooperate you can use a backup plan. Keep two or three different beauty hacks for your hair in mind so you can choose the one most suited to your plans.
If your hair is long enough, learn how to put a French braid in it. Once you have practiced the motions you can quickly create this timeless style whenever you want. Experiment with variations to avoid repeating the same hairstyle. For instance, you might only braid the hair from the top and sides, allowing the back to hang down your back.
Another way to boost the appearance of your hair is to add some in the same color as yours. The beauty market has some excellent natural hair products that can be placed on your head to make your hair look fuller. As with braiding, practice a few times so you have muscle memory developed when you are in a hurry.
Your hair is your crowning glory and right beneath it is the gateway into your heart and mind. Your general state can be determined from the health of your skin, the glow in your eyes and the shine in your hair. These hacks will help you make the most of the assets you have and provide you with a workaround when needed!